GET INVOLVED - CLUBS
This page is designed to help clubs along with their community departments work more closely with our campaign. There are a number of key areas
of our work demonstrated below in which you can become more involved. With your help we will be able to reach more young people and spread our anti-racism message even further. To get involved with a key area of our work, please use the contact form at the bottom of this page.
Events at clubs
Our team works across the UK in partnership with a range of clubs to host educational events for local young people. The events feature fun and interactive workshops and a screening of our educational film. Current and former professional players from the host clubs attend the events and answer young people's questions about racism during a role play press conference. These events have a long lasting positive impact on young people. We are keen to work with any club to host an educational event.
Event requirements: We will require a room with the capacity for around 60- 120 young people to attend. The success of the event depends on the attendance of first team players from the club. We will work with you to run the event on a date that suits the players' schedules.
We are able to work in partnership with your Community Department who can provide additional workshops and/or ground tours for the young people.
Visit our news section for examples of club events we have delivered.
Month of Action
Each October clubs in Scotland and Wales show their support for Show Racism the Red Card during a match day action as a vehicle to deliver an Anti-Racism message to the community through the power of sport. The Show Racism the Red Card actions weeks form part of the Football Against Racism in Europe (FARE) Football People Action Weeks. For more information visit the Action Weeks page via the button below.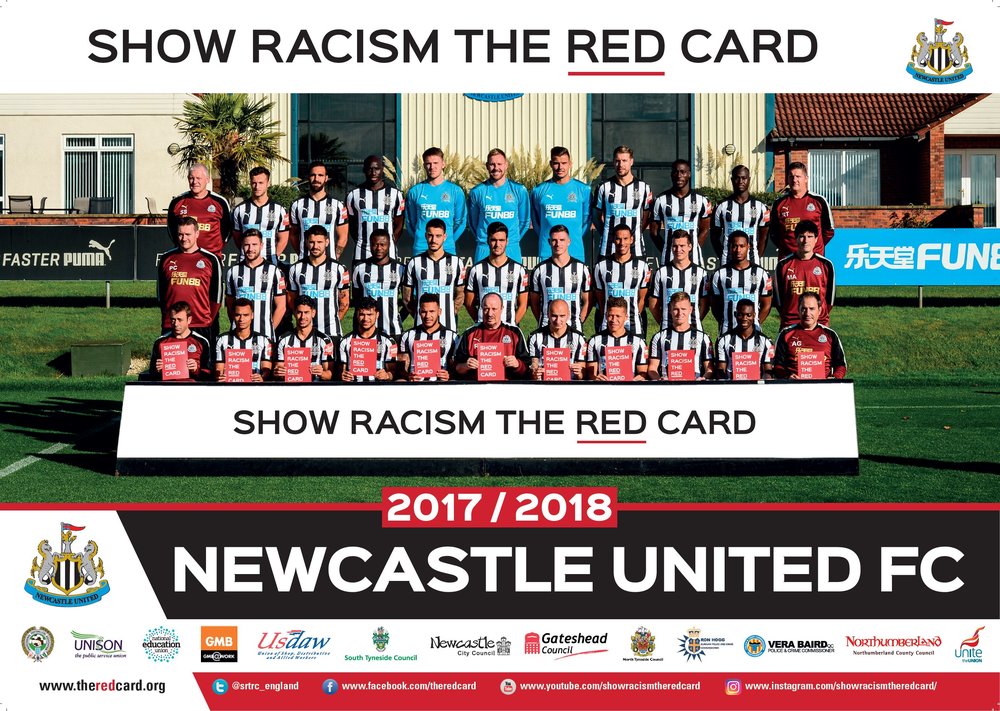 Each season Show Racism the Red Card produces thousands of posters. We print posters with Premier League clubs, as well as sponsored clubs across all divisions. We encourage partnership councils to sponsor team posters – this enables the image to be printed. If we are able to secure sponsorship, your club will receive copies of the posters for your own use – free of charge. The poster images are extremely popular with young people (and adults!).
Requirements: Participating in our poster campaign is a fantastic way for the club to demonstrate a clear anti-racist stance to supporters and the wider community. We will contact you before the start of each season and provide you with everything you need to take a "Show Racism the Red Card" photograph at your team photo shoot, with the players holding our red cards.
Educational Workshops
In Wales we can deliver a range of educational workshops as part of the Challenging Racism in Football project, which is a collaborative project between Show Racism the Red Card Wales and the Football Association of Wales. For more information about these workshops click on the button below.
Get Involved Enquiry
To enquire about getting involved in your region please use the contact form by clicking on the below buttons.